Bradford House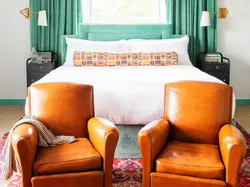 Bradford House is a 36-room hidden gem offers modern amenities, quirky design details and completely re-imagines what true hospitality can be. Set on a tranquil, residential street in Oklahoma City, Bradford House is a place where guests are invited to enjoy the luxury of respite and be enchanted by curiosity and intrigue.
Contact
Bradford House
1235 NW 38th Street
Oklahoma City, OK 73118
(405) 451-3693
Press Inquiries
Please email hello@bradfordhouseokc.com
to inquire about press features.
Health & Safety
Our staff takes great pride in providing a safe, comfortable, and responsible environment. If you would like to know more about our practices, please do not hesitate to contact our staff directly via phone or email.
View our current Health & Safety Standards
Parking